Well It's The Morning After My Sneaky Trial Day, And Thankfully, We Survived! LOL
All kidding aside, it wasn't so bad. Well, with the exception to afternoon snack… Normally I might grab a cookie or some chips, but I had to actually think it out, and grabbed a pear and cucumber. Too lazy to chop up the pepper or make the vinaigrette… but once we get started, I'll need to put in the extra effort.
Lunch was great. I made that little flatbread pizza and it was a total hit! And it is something that we would normally have – no extra effort or anything, so I was pretty happy with that selection. PLUS it fit within the container counts for the day AND we were actually quite full from it. It helped, I'm sure that we had a shake at around 10:30, and the copious amounts of water we were drinking, but I think it is a keeper.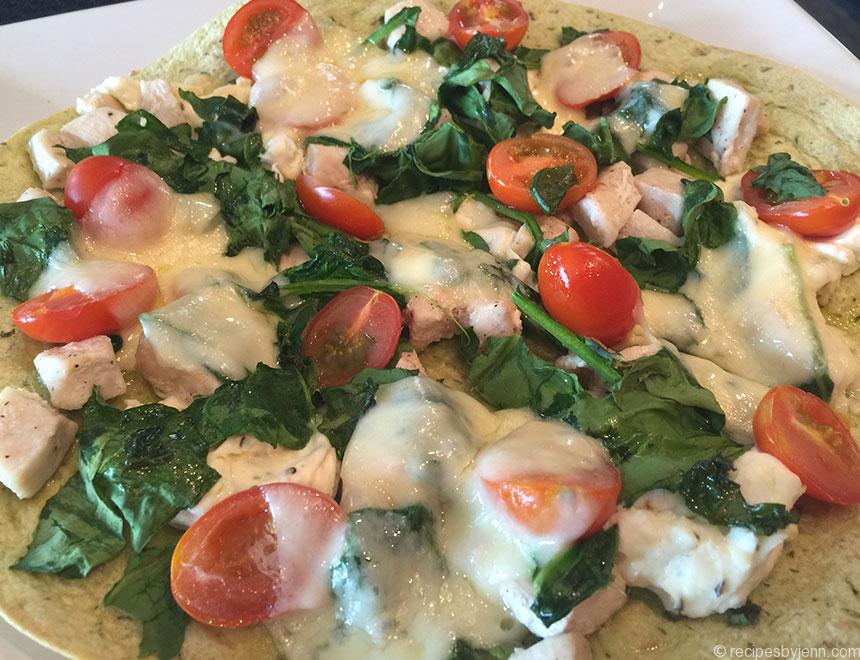 (Doesn't that look amazing?!)
Afternoon snack, and then dinner. Again, nothing really out of the ordinary here, except I added more of the veggie and less of the carb (potato). We still had the same type of ingredients, just adjusted the portion of each. Oh, and also, so that we didn't feel the gyp on 4oz of steak, I cut it into slivers… helps you not to look at how little you think you are having (compared to what you are used to).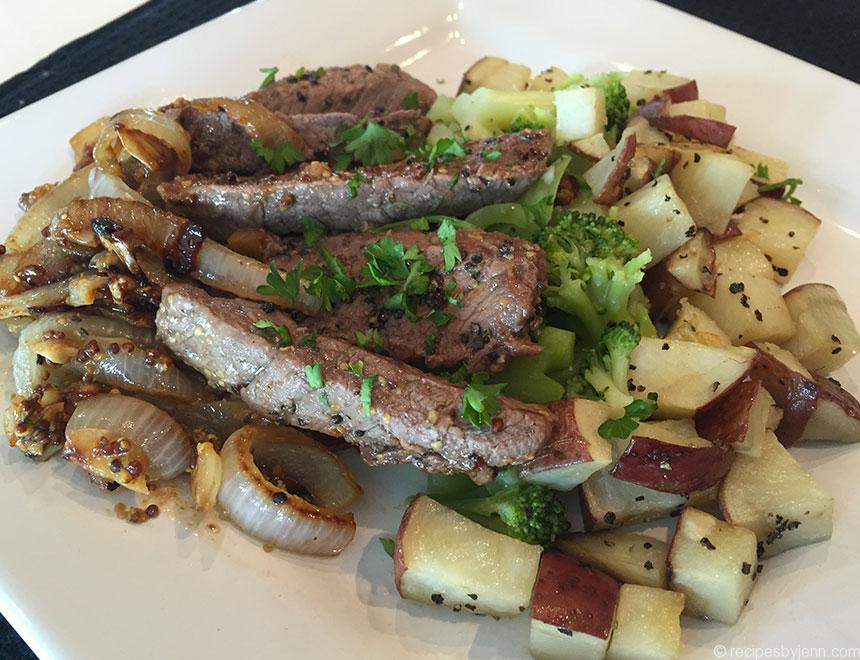 (Wow, right? OMG it was good! For the extra kick and flavour, I just used grainy mustard with the onions, and then added the steak to the same pan to get all of the flavours going together. Sweet.)
Ok, so lunch and dinner should be pretty straight forward, I think. And I discovered last night that, if ever I'm out of ideas, just check out Pinterest for 21 Day Fix recipe ideas! There are so many out there! The one thing I would recommend however is to really check the ingredients and not just take the author's word for it. In some cases, you might be doing great with portion, but you are pumping your body full of other nasties, like preservatives and chemicals… For example, using a cream of mushroom soup might be easy, but it would be almost as easy and waaaay healthier if you used mushrooms and a cream+coconut flour blend with herbs and spices (try thyme).
Now, my weaknesses from yesterday. We decided last minute to go see a move last night. Sat in the VIP theater and munched on buttery (with extra butter) popcorn (with extra chemical-y, preservative-y butter). Oh, and half an order of kettle chips. I told myself, I'm not starting yet, technically. And I did really good all day, so why not? But thinking back, ordering some veggies and dip and maybe some apple slices would have been better.
But as I said yesterday – I'm not out to kill myself on this thing, and I'm certainly not going to beat myself up for little indiscretions. But I do commit to being honest with myself about them, looking for ways around it, and making different choices in the future.
Another thing I did last night was take starting line photos: front, side, back (oh so unflattering). but it has to be done if I'm going to give this a good try. I have buried them away, however – I won't share unless absolutely necessary! LOL
This morning, up and at it again. I won't go as strict on the trying today (yesterday was to see if we could do it without starving ourselves), but I thought I would experiment a little more with the portion. So for breakfast, 2 egg omelet with bacon and an apple.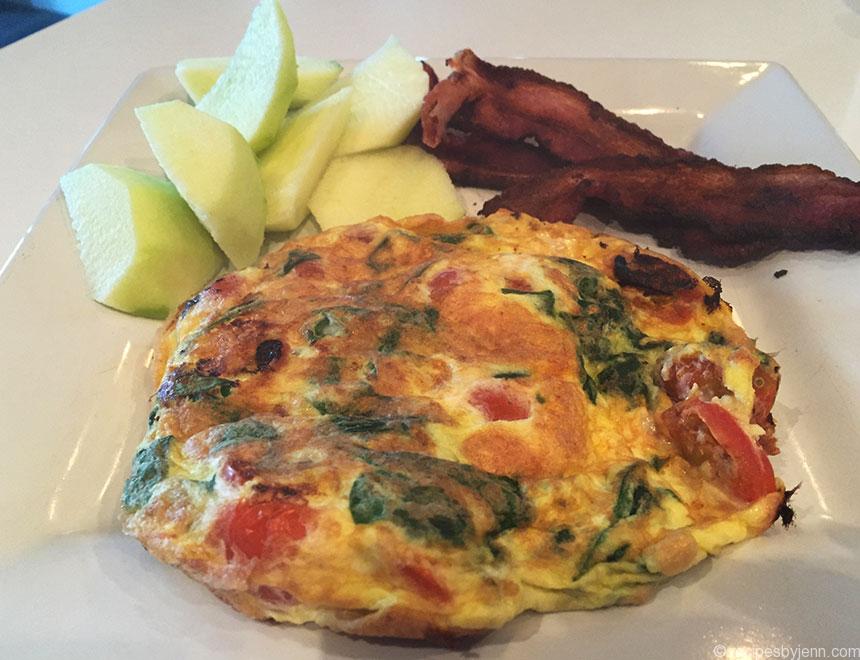 It was sooooo delish. I used to make these all the time, so again, nothing new. I've just neglected my omelet maker since moving this past Winter (you know, cause the pantry where it's stored is soooooo far away – like 4 feet – and takes soooo much more work to pull out than the toaster, or driving to my fav coffee shop :/ )
My weakness this morning however… I am starting to jones a little for a coffee. But not the free coffee that's allowed, but my sugar-y amazingness that makes me warm in my heart tummy. You know the kind… But NO! I must resist (and I have… made it through the toughest hours without it, so yay!). I'll sneak out in a minute and grab a yoghurt and maybe a pear, and that will be a good snack for me (I love pears!).
Lunch will be easy. I've already roasted chicken breasts in the oven and chopped them up (as a part of my regular food prep), so a nice wrap with veggies and cheese. I'll need to buy more fruit cause I've eaten it all LOL.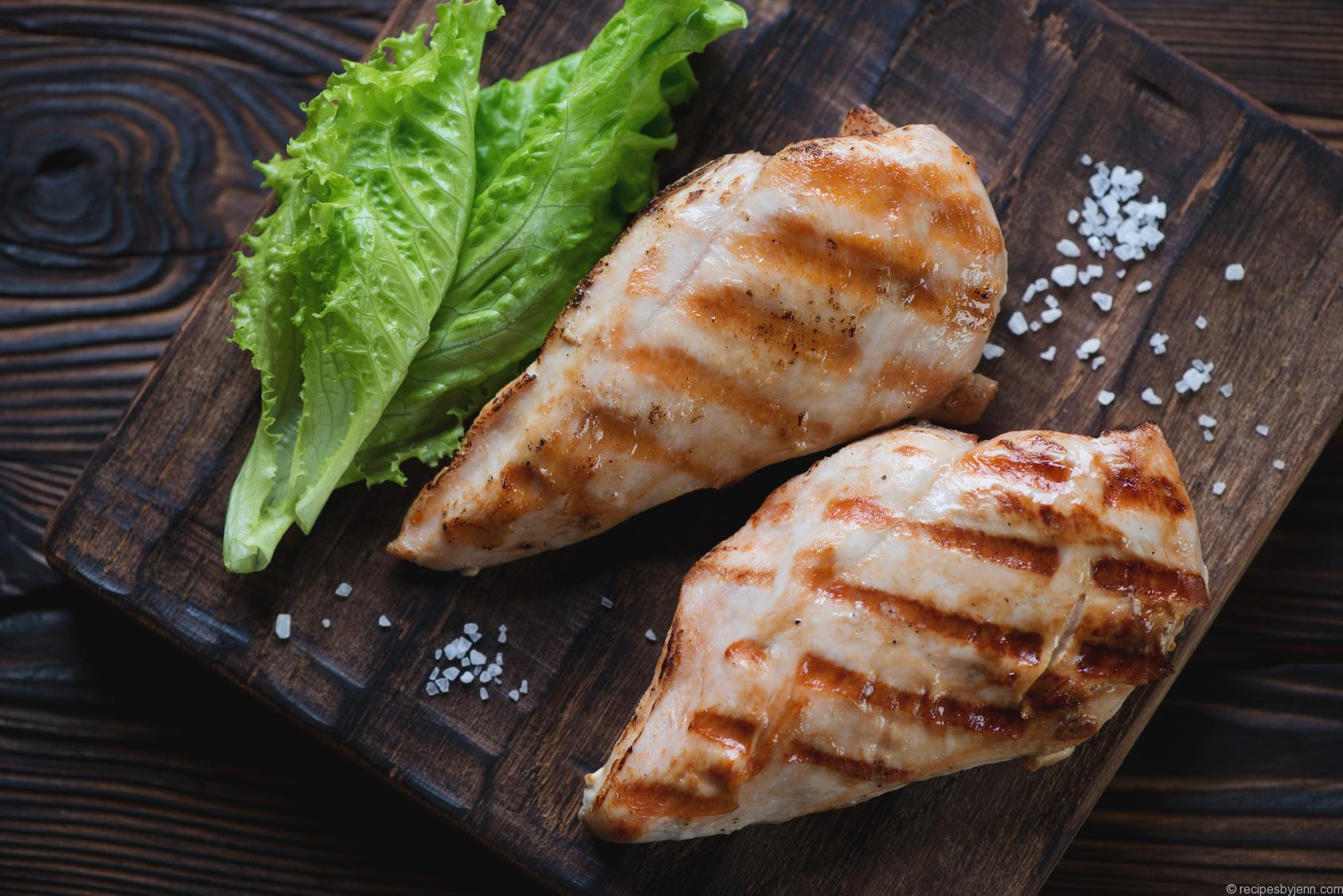 Tonight will be tricky. So, twice a week, hubby and I have our 'party nights', which consist of letting someone else cook for us – an indulging food – and then bevies. On the 21 Day Fix, you need to have only 4oz of wine 3 times a week (can you do that all at once? Not sure…). For dinner, we'll be doing a juicy, bacon-y chicken burger with a side of fries and gravy. As I type that, however, I find myself checking this against what my portions for the day are… Not the best choices, I suppose. What about a side of salad instead? Or omitting the gravy just this one time? How about avoiding the carbs at lunch and using them tonight? I suppose there are always ways to have what you like, but it's about just how much of a good thing does it take to no longer be a good thing…? Hmmm food for thought…
Until tomorrow…